single
Big Pike Virtual Family Fishing Derby
MARTIN (REG) MCHALE MEMORIAL FAMILY FISHING DERBY– MOVING ONLINE THIS YEAR!
The Recreation Committee is planning an Online version of the Derby this year. It will occur over  4 days from 5pm, Friday, June 30 to Monday, August 02 at 5pm. Online Registration will be required and jpg photo submissions of your Pike measurement must be date stamped. Registration will be $20/person or $35/family and your registration is confirmed by your registration fee payment.
Proceeds from the Derby support the Fire Department equipment purchase and the Recreation Committee, which provides all-ages programming and events for Johnson Township residents and families across the North Shore.
Register NOW for this year's Derby!
Registration for this event is required by July 23rd; your registration will be confirmed upon receiving your Registration Fee at payments@johnsontownship.ca.
There is a first place cash prize of $500 and a trophy featuring the name of the winner. Didn't catch the largest pike? Don't worry! Thanks to our sponsors of this event, there are plenty of other "door prizes" that will be determined by way of an online draw. So be fast to enter your name!
Important Information for Registry and Regulations:
In order to make your fish count during this virtual Derby, we ask that you register and send us your best catch at our email: people@johnsontownship.ca. Please include your name, and contact information in your email to be put in for longest catch, and our door prize draw.
ONE fish is allowed PER entry. We will acknowledge your registration by email. Make sure to include a date stamp, and the photo taken from above- to show both ends of the measuring tape (tip to tail) of your stellar catch! As pictured to the left.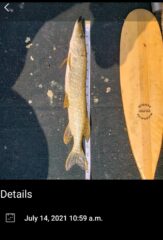 Prize winners will be announced on the Township website and on the "Johnson Township Recreation" Facebook page. Please allow us some time to process all the entries.
Happy fishing!