single
2020 ATV Poker Run, Saturday, September 26, 2020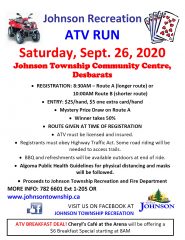 An ATV Run is scheduled for Saturday, September 26, registration at the Johnson Township Community Centre, Desbarats,
Registration 8:30am (longer route) or 10AM (shorter route)
Starts at the Johnson Township Community Centre, Desbarats
Due to new Covid restrictions on numbers allowed to gather outside, we will not be having a BBQ at the end of the ATV Run on Saturday. Please come with masks and follow signs that will help maintain physical distancing. At the end of the run, participants whose cards are not in the running or have no chance to win, will be asked to not stick around so we can avoid having too many people gathered. Waiting in vehicles will also be encouraged. Thank you! Algoma Public Health Guidelines for physical distancing, hand sanitation,  and masks will be followed.
ENTRY: $25/hand, $5 extra card/hand, Winner takes 50%
Mystery Prize Draw on Longer Route
ROUTE GIVEN AT TIME OF REGISTRATION
Proceeds to Johnson Township Recreation and Johnson Township Fire Department
ATV Run Breakfast available at Cheryl's Café at the Arena – Breakfast Sandwich, home fries, coffee for $6.
Click on the image to download a PDF copy of the poster