single
Johnson/Cu-Jo Memorial Family Hockey Tournament, March 13, 14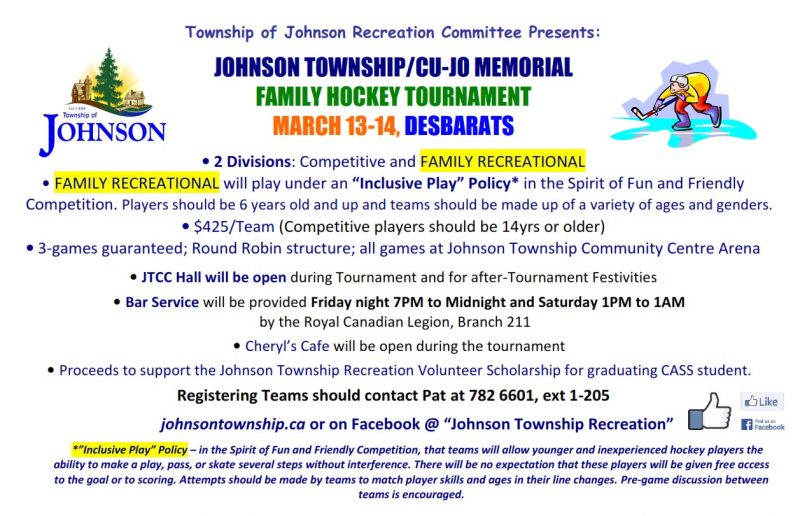 We are now taking team registrations for the Family Hockey Tournament which is scheduled for the weekend of March 13 and 14. Here's the details:
2 Divisions: Competitive and FAMILY RECREATIONAL
FAMILY RECREATIONAL will play under an "Inclusive Play" Policy* in the Spirit of Fun and Friendly Competition. Players should be 6 years old and up and teams should be made up of a variety of ages and genders.
Competitive Players should be 14yrs or older
$425/Team
3-games guaranteed; all games at Johnson Township Community Centre Arena
JTCC Hall will be open during Tournament and for after-Tournament Festivities
Bar Service will be provided Friday night 7PM to Midnight and Saturday 1PM to 1AM by the Royal Canadian Legion, Branch 211 (Legion reserves the right to close the Bar if attendance is low)
The Arena canteen will be open during the tournament with a special menu
Proceeds to support the Johnson Township Recreation Volunteer Scholarship for graduating CASS student.
Registering Teams should contact Pat O'Gorman at 782 6601, ext 1-205.
*"Inclusive Play" Policy – in the Spirit of Fun and Friendly Competition, that teams will allow younger and inexperienced hockey players the ability to make a play, pass, or skate several steps without interference. There will be no expectation that these players will be given free access to the goal or to scoring. Attempts should be made by teams to match player skills and ages in their line changes. Pre-game discussion between teams is encouraged.