single
Children's Recreational Hockey Fundamentals Program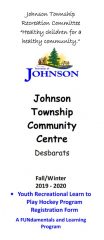 Please click on the image to download the registration form and information about the Children's Recreational Hockey Fundamentals Program offered through Johnson Township Recreation.
RECREATIONAL HOCKEY PROGRAM
Ages 4 to 13, co-ed
19 weeks from October 30 to December 18 and January 8 to March 25, March Break holidays excepted
Wednesday evenings: 6:00 to 7:00PM
Come and Register free skate:
October 23, registration starts at 5:30
Emphasis will be on skills development, participation, fun, and fairness.
Fee for season: $145/first child, $130/second child, $100/subsequent child
*Consideration is given for ability levels: if you feel your child belongs in the higher or lower age group because of ability, please register in that group.