single
Reg McHale Memorial Big Pike Family Fishing Derby, June 22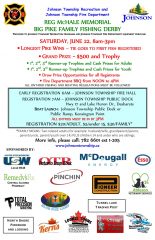 Johnson Township Recreation and the Johnson Township Fire Department, with the help of Cory Moore and several other area residents, welcome you to join us for the FIFTH annual Reg McHale Memorial Big Pike Family Fishing Derby for Saturday, June 22.
Entry will be on the day, $20 for adults, $5 for kids, and a special family rate of $30 – FAMILY MEANS: Two related adults (for example: husband/wife, grandparent/parent, parent/uncle, parent/youth over 14) PLUS children 14 and under who are siblings. Grand Prize winner takes home $500 and a trophy; 1st, 2nd, and 3rd runners-up in the Adult and Youth categories will receive cash prizes and a trophy. The only measurement will be length; if there is a tie, the first fish registered will win. All participants will be eligible for draw prizes as well.
Early registration available at the Johnson Fire Hall at 6am. Registration will officially open at 7am at the Johnson Township Public Docks at Hwy 17 and Lake Huron Dr. Boats can be launched from the same location. Measurement will close at 3PM sharp at the same location.
The Fire Department will be running a fundraiser BBQ from noon until 4pm Proceeds from the Derby will go towards the Fire Department and Recreation Programs. Many thanks to our major sponsors: United Steelworkers Local 9548, Pinchin Engineering, McDougall Energy, Ontario Trap Rock,  Total Precision Surveying, Tunnel Lake Trading Post, Blue Fox Camp, Stobie Mechanical & Welding, Pioneer Construction, Busting Water Tackle,  Ableson's Veterinary Services, Remedy's RX Central Algoma Pharmacy, Loony Toons Pontoons and Power Sports, Kern's Maple Products, Clarida Construction and North Shore Firewood and Logging