single
Family Wellness Night, JTCC, April 5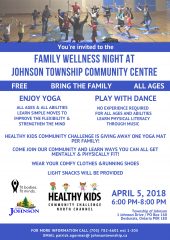 Johnson Township Recreation, with support from Healthy Kids Community Challenge North Channel, is holding a Family Wellness Night at the Johnson Township Community Centre, Desbarats, on Thursday, April 5 from 6pm to 8pm. The session is free and no pre-registration is required though we suggest that you let the recreation office know you are coming at 705 782 6601 x 1-205 or by emailing patrick.ogorman@johnsontownship.ca.
The evening will be for all ages, no experience is necessary. The two main activities will be an Enjoy Yoga session, where participants will learn simple moves to improve flexibility and strengthen the mind, and Play with Dance, where participants will learn physical literacy through movement to music.
Each family will be given one Yoga mat for participation and healthy light snacks will be provided. You are asked to wear comfy clothes and running shoes.
Click on the poster to download a pdf copy of the poster to put on your fridge as a reminder!
Bring the whole family to join our community and learn ways we can all get mentally and physically fit!