Residential Rental Opportunity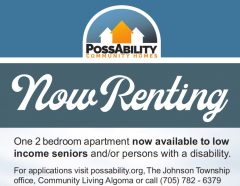 2 BEDROOM APARTMENT AVAILABLE – To low-income seniors and/or persons with disability.
PossAbility Community Homes, Desbarats.
For applications, visit www.possibility.org, Johnson Township municipal office, Community Living Algoma, or call 782-6379.
Complete applications should be mailed to
539A Grey Duck Dr.
Desbarats, P0R1E0
Supporting opportunities for Senior accommodations in the Township of Johnson is supported by the mandate of the Town Council.