Good Food Box Program Supported by Healthy Kids Community Challenge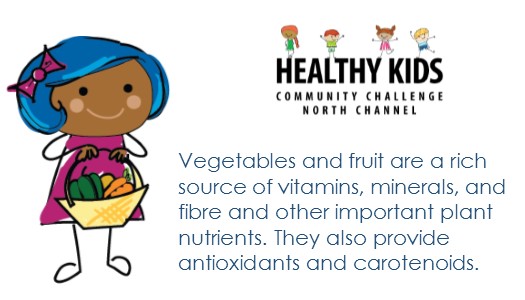 Johnson Township and The Healthy Kids Community Challenge North Channel are supporting the Good Food Box program and encouraging eligible families with children 12 and under to participate.  Healthy Kids Community Challenge will pay 50% of the cost from August to December 2017 (usual cost is $20, less 50% = $10 cost/family with children 12 and under).  The Good Food Box is a brimming box of fresh fruits and vegetables delivered to you during the 3rd week of every month.  It also supports local and Ontario farmers.
To order a Good Food Box call the township office 705-782-6601 ext 1-205, or stop in to the Municipal Office You can also contact Township Good Food Box Pick-Up volunteer Leanne at 705 782 0322.  Participants must pay their $10 share at the time you sign up. You can also order directly by calling 705-942-2694 or by email at the soupkitchen@shaw.ca  Participants will be contacted as to the Pick Up location.  Important dates to remember:
Sign up by August 16th for pick up on the 24th
Sign up by September 13th for pick up on the 21st.
Sign up by October 11th for pick up on the 19th.
Sign up by November 15h for pick up on the 23rd.
Sign up by December 13th for pick up on the 21st.
Please click on the images to find out more info about the value of Choosing to Boost Veggie and Fruit.