Employment Opportunity – Administrative Assistant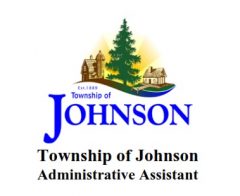 (Please click on the image to download a pdf copy of the Employment Opportunity Posting.)
Due to a retirement, the Township of Johnson is looking to recruit a qualified individual for the position of Administrative Assistant. Reporting to the Municipal Clerk, the incumbent will work closely with all municipal office staff in executing a variety of tasks from administrative office functions to finance.
A knowledge of municipal governance, applicable provincial and federal legislation and finance, are all necessary for the successful candidate. A knowledge of Microsoft Word, Excel, PowerPoint and the USTI Municipal  Finance System is preferred. The incumbent must be energetic, have excellent communication skills and have high ethical standards.
For further information regarding qualifications or job duties, contact the Clerk, Chris Wray at cwray@johnsontownship.ca.
The Township of Johnson offers a competitive remuneration package including an attractive benefits plan.  Interested individuals having these qualifications are encouraged to submit a cover letter and resume marked ADMINISTRATIVE ASSISTANT by 4:30 PM, Monday, September 23, 2019 to the attention of:
cwray@johnsontownship.ca
Chris Wray, Clerk, Township of Johnson
Confidential – Administrative Assistant
1 Johnson Drive / PO Box 160
Desbarats, Ontario P0R 1E0
Submission by email is acceptable