Summer Highland Dance Program 2018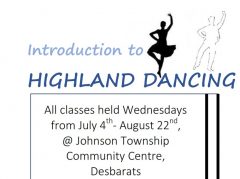 Johnson Township is pleased to announce that an Introduction to Highland Dance Program will occur this summer every Wednesday evening from 7 to 9PM, for 8 weeks starting July 4th. Instructor Emma Robinson, a township resident who started Highland Dancing in the Townships Highland Dance Program many years ago, is an accredited Highland Dance teacher with the Scottish Dance Teachers Alliance. Fee is $80 for 8 weeks, or $12/session. There is a minimum number of full 8-week registrants required for this program to be offered and the Township reserves the right to to cancel the program if there are not enough registrations.
No experience necessary – Children/youth (ages 4-15) 7- 8 pm; Adults (16+) 8-9 pm
What is Highland Dance?
Originating from Scotland, this is a traditional style of dance that is now taught and performed all over the world to the music of the Great Highland Bagpipes
Benefits of Dancing?
Full body workout challenging the mind and body in a social environment. Focus on upper/ lower body and core strength, flexibility, and endurance.