Alert Ready System Test, May 7 – Emergency Preparedness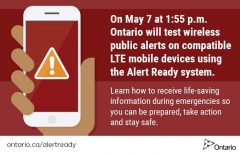 On May 7 at 1:55 PM, Ontario will test wireless public alerts on compatible LTE mobile devices using the Alert Ready system. Learn how to receive life-saving information during emergencies so you can be prepared, take action, and stay safe.

An Emergency Preparedness Tips and Resources guide is available by clicking on the image to the left. Learn about Making a Plan, Building a Kit, and more information on how you can be prepared for an emergency.