Free Sunday Public Skating from the HKCC North Channel!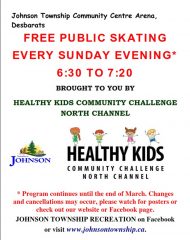 Johnson Recreation is pleased to announce that Sunday evening public skating will be FREE from now to the end of March, thanks to funding from the Healthy Kids Community Challenge North Channel. Skating time is 6:30 and ends at 7:20.
Changes or cancellations may be applicable, please check this website or JOHNSON TOWNSHIP RECREATION facebook page.