Healthy Kids Community Challenge Theme 4 – POWER OFF AND PLAY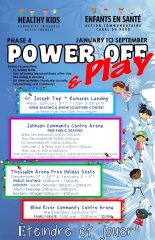 Healthy Kids Community Challenge North Channel is releasing their new theme"Power Off and Play" with a series of events and programs during the upcoming Holiday season and school break. Free skating and free events will be offered across the 11 North Channel communities involved in the Healthy Kids Community Challenge North Channel group. Please click on the poster to download a pdf copy of the poster and see what events are available near you!
The Ontario Ministry of Heath-directed "Power Off and Play" theme will bring attention to the need for children to reduce screen time and be physically and mentally active. The HKCC North Channel community is focusing on reducing children's recreational and sedentary screen time as a part of a balanced day that should include a considerable amount of play time. Higher screen time is linked:
to poor brain and language development in young children,
to lower levels of physical fitness, unhealthy weights and risks of cardio-metabolic disease in youth
and to behavioural issues, lower self-esteem and lower psychological well-being.
Families can reduce screen time:
by setting limits with the following recommended guidelines – none for ages under 2, less than an hour/day for ages 2 to 4, and no more than 2 hours of recreational screen time a day for ages 5 to 17.
by turning off screens during important times of the day like meals & before bed – avoiding screens for one hour before bedtime can contribute to better sleep.
by doing other activities whether they are physical, social, or creative! The Canadian Physical Activity Guidelines recommend that kids get at least 60 minutes of moderate to vigorous physical activity each day! At present, only 9% of 5 to 17 year olds are meeting this recommendation.