Johnson Township ATV Run, September 30, 2017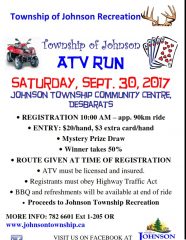 Hey, all you trail runners!
The Fire Department and Johnson Recreation are pleased to announce that the Johnson Township ATV Run is scheduled for Saturday, September 30, registration at 10AM at the Johnson Township Community Center and the run should take you about 4 hours, at which point we will have a BBQ and refreshments available to all and sundry. Cost per hand is $20, with an option to buy one extra card per hand for $3. There will also be a Mystery Prize Draw. The route will be announced at the time of  registration, there is some road running to get to the back country. Click on the poster to upload a pdf copy of all the info. Looking forward to a good turnout this year!
Proceeds go to support the Fire Department and Recreation Programming.
Breakfast will be available starting at 9am at the Johnson Farmers' Market Canteen  for the amazing deal of $6.
Concerts
Saturday, September 30th, 2017
10:00am
Johnson Township Community Centre / Desbarats, ON (CA).