Big Buck Contest 2017 Registration Now Open!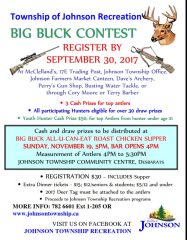 CALLING ALL HUNTERS!!!!
Hunting season is almost upon us. Here is the info for the Big Buck Contest Registration. You must register by Saturday, September 30th. The All-U-Can-Eat Roast Chicken Awards Supper will be on Sunday, November 19th. Cash and other prizes for all registered antlers and all hunters eligible for further prize draws. Get registered and Good Luck. Click on the poster to open a PDF copy of it for a reminder!
Registration and supper tickets can be purchased at: McClelland's Hardware and Feed, 17E Trading Post, Johnson Township Office. Johnson Farmers' Market Canteen, Dave's Archery, Perry's Gun Shop, Busting Water Tackle, or through Cory Moore or Terry Barber
Any questions can be directed towards Pat at the Township Office at 705 782 6601 ext 1-205, or at patrick.ogorman@johnsontownship.ca.
Concerts