Healthy Kids Community Challenge Scavenger Hunt, Sept. 9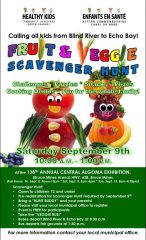 Fun with Healthy Kids Community Challenge North Channel and a Fruits and Veggies Scavenger Hunt at the Bruce Mines Fall Fair on September 9th! Have you ever hunted the elusive carrot or brussell sprouts? Calling all kids 12 and under from Blind River to Echo Bay! Join the fun and discover Fruits and Vegetables! Games, challenges, puzzles and more! FREE Event! Download the poster for more info and register in advance at the township office!
REGISTRATION EXTENDED TO FRIDAY, SEPTEMBER  8 – CALL PAT 705 782 6601 EXT 1-205!